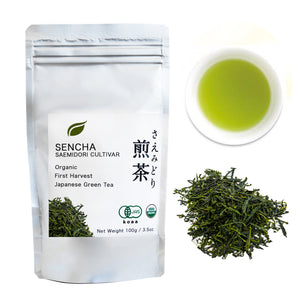 Matcha Konomi
Organic Sencha - First Harvest Saemidori Cultivar 100g (3.5oz) bag - USDA Organic Loose Leaf Tea
Sale price Price $23.95 Regular price
Product Description
-Type of tea: Organic Sencha (this product is not matcha)
-Cultivar: Saemidori
-Harvest: First harvest (spring)
-Origin: Kagoshima prefecture
-Safety: Radiation free (testing results are on product image #2)

What makes this sencha tea different?
Saemidori sencha is a cross between Yabukita and Asatsuyu cultivars; it has inherited the the balance of Yabukita, and the sweetness and color of Asatsuyu.
Saemidori sencha is truly a unique Japanese green tea that is smoother and more flavorful than ordinary sencha, without sacrificing the body or brothiness of the liquor.

Storage
Store in a cool, dry, and dark place. Light, moisture, heat, and strong odors can damage the quality of the leaves. Once package is opened, please use as soon as possible.

Instructions
1- Use 1 to 2 tsp. of tea leaves (2g to 4g). We recommend you start with 1 tsp (2g).
2- Brew with 150-200ml of water at 176F (80C).
3- Brew for 1 min

Brewing tips (please watch video at the bottom of this page)
- Do not use boiling water and do not brew the first cup for more than 60, as that will result in an over extracted or an unpleasantly bitter tea.
- Brewing a second cup should be for no more than 20-30 seconds.
- Adjust your serving size and the amount of water to your liking. There is no right or wrong, it's what you enjoy.

Our Promise
We commit to supply you with the finest and freshest teas at a fair price. We ship all of our teas by express air freight to avoid the unpredictable environment associated with sea freight. Our teas are stored in temperature controlled units in our warehouses in the United States before they ship directly to you, they are never sitting on retail shelves.