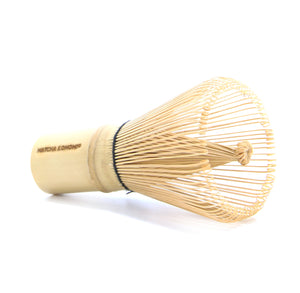 Matcha Konomi
Handmade Chasen (Matcha Whisk)
Sale price Price $8.95 Regular price $0.00
This Whisk (Chasen) is specially designed for mixing Matcha. It has 100 Prongs and is handmade from golden bamboo (not white bamboo) by skillful craftsmen. Golden bamboo has more durability than white bamboo. 
Please note you should always store your whisk on a whisk holder to keep its shape, and prevent molding.
This Chasen is great at making frothy thin Matcha for Japanese tea ceremonies or your daily matcha drink. Use the whisk by vigourly making a W or M shape back and forth in the bowl till the matcha is lump free and frothy.

Be gentle with your whisk during the whisking process, and be careful to not put too much pressure on the whisk causing it to rub against the bottom of the bowl as that could damage your whisk.

Matcha Accessories are non refundable.