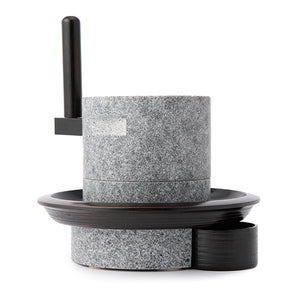 Matcha Konomi
Traditional Japanese Granite Matcha Millstone
Sale price Price $1,350.00 Regular price
Our Matcha Konomi Millstone is handmade in Japan from traditional Japanese granite named the "Aji Stone." We are proud to provide this beautiful work of art to our customers who want the ability to grind fresh matcha at home. 

This stone mill is produced using Aji Stone which is well known in Kagawa prefecture, Japan.  This stone has been called the "diamond of granite" because of its hardness and durability. 
The matcha catch, handle and bowl are made from smoked bamboo.
What you get: 
Aji Stone Mill
Detached Wooden Bowl and Two Piece Handle 
50g bag of Akira Organic Tencha
Brush
Care instructions
NOTE: This item is non-returnable and non-refundable. Shipping of this item will be insured.